23 June 2023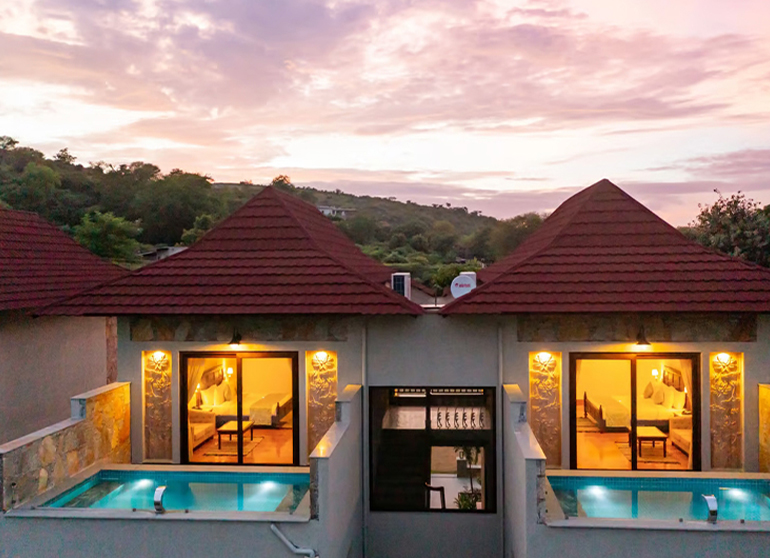 Explore the Best Private Pool villa Resort in, Udaipur
Sarasiruham Resort is the best resort in Eklingji, Udaipur. With its exquisite private pool villas, ultimate services, and breathtaking views, the resort stands out as the best choice for those seeking a truly indulgent experience in Eklingji, Udaipur.
Sarasiruham Resort's best private pool villa resort in Udaipur delivers extensive accommodation includes 24 suites, which are broadly classified into three categories: luxury pool suites, lake view suites, and garden view suites.
Luxury Pool Suite: Enjoy 550 square feet of private luxury that includes a sumptuous master bedroom and a pool that is 150 square feet in size and 3.5 feet deep. These luxury apartments provide infinite views of the peaceful environment. The bedroom has a big balcony and is elegantly furnished with a Rajasthani touch.
Lake View Suite: With a balcony facing Lake Bagela and mesmerising views of the mountains, birds, and Lotus growing along the shoreline, wake up to peace and quiet in one of our Lake View Suites.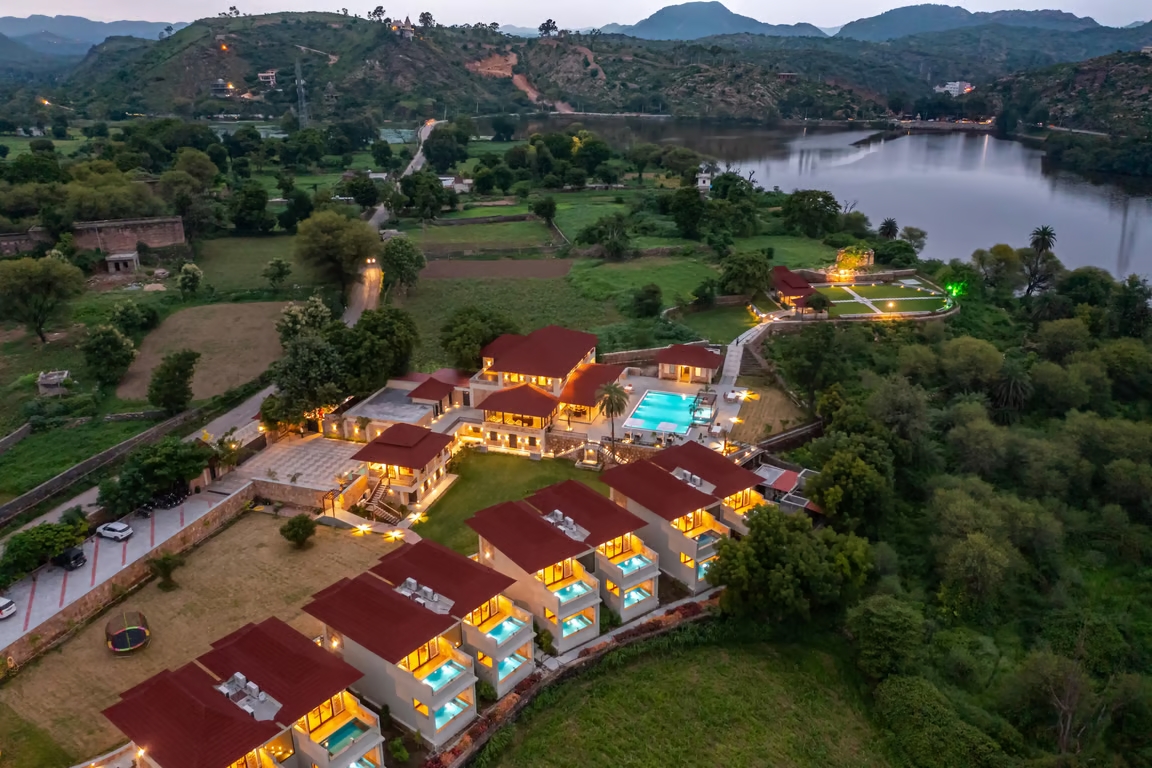 Garden View Suite: The apartment is situated on the inside of the building and is meticulously constructed across 450 square feet. A private balcony on the first floor offers a private balcony, while the ground level opens into a beautifully designed garden. The Garden View Suite, perfect for families, also provides a grand view of a 100-year-old temple and Peepal tree.
Embrace yourself in luxury as you take a refreshing dip in your personal pool, relax in the scenery, or unwind in your private suite while admiring breathtaking views of the surrounding scenery. Nestled amidst the Aravalli Hills, Sarariuham Resort, a lake-view resort in Udaipur, offers breathtaking views of the surrounding natural beauty. Wake up to the sight of the rising sun casting golden hues on the mountains, or witness the enchanting sunset as it paints the sky with vibrant colours. With its serene atmosphere and breathtaking views, the resort offers the perfect environment for relaxation.
Sarariuham Resort, the best resort in Eklingji, stands out as the pinnacle of comfort and elegance. With its private pool villas, delightful services, breathtaking views, and serene surroundings, it offers an unparalleled experience for those seeking an indulgent getaway. From the moment you step into this exquisite resort, you are transported to a world of opulence and relaxation. Whether you choose to bask in the privacy of your villa or explore the charms of lush green gardens and lake views, The Resort promises an unforgettable stay that will leave you with cherished memories of your time in this royal city
While Sarariuham Resort, luxury resort in Udaipur, provides a haven of luxury, it also serves as an ideal base for exploring the treasures of Udaipur. The resort's strategic location allows easy access to iconic attractions such as the City Palace, Jag Mandir, Lake Pichola, and the famous Jagdish Temple. Immerse yourself in the city's rich cultural heritage, indulge in local cuisine, and experience the warmth of Rajasthani hospitality.