16 Feb 2023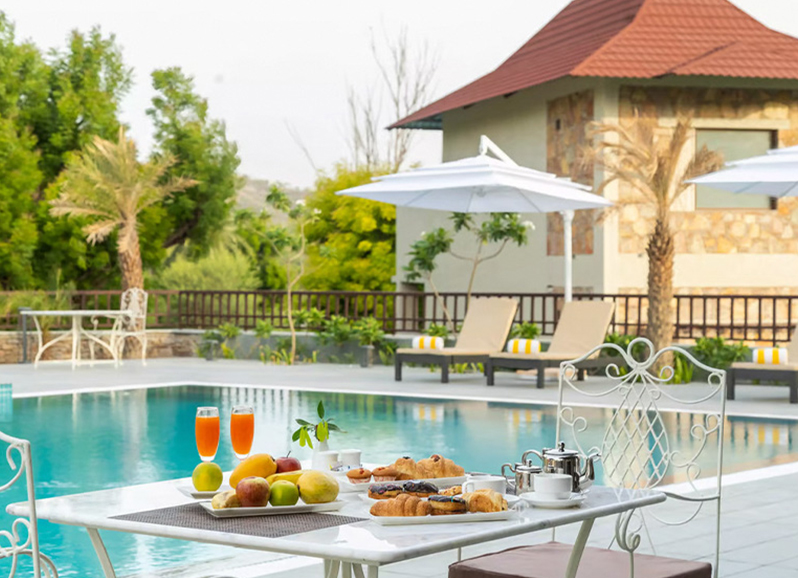 Indulge In The Flavors Of Rajasthan At The Fine Dining Restaurants Of Sarasiruham Resort
Rajasthan, the country of the kings and queens, is renowned for its vivacious culture, stunning architecture, and of course, its mouthwatering cuisine. The food of Rajasthan is a feast for the senses, from the hot curries to the sweet desserts. And what finer place to savour these delights than at the resort's great dining establishments?
The opulent Sarasiruham resort, which is outside of Udaipur, Rajasthan, was created to provide visitors an entirely complete experience of Rajasthani culture and cuisine. The excellent dining establishments at the resort provide a variety of various cuisines in addition to traditional Rajasthani food.
The restaurant, named "Santript," is inspired by the traditional kitchen of a Rajasthani home. The restaurant serves a range of vegetarian and non-vegetarian dishes that are prepared using traditional recipes and cooking techniques. Some of the must-try dishes at restaurant include the Rajasthani thali, which is a platter that includes a variety of dishes, and the laal maas, a spicy mutton curry that is a staple of Rajasthani cuisine.
Indian, Chinese, and continental cuisines are also available at the fine dining establishment. With views of the Aravalli hills and a fountain in the middle of the eating room, the restaurant has a lovely location. Santript's menu features a variety of cuisines, ranging from the traditional Indian butter chicken to the Thai green curry.
The Sarasiruham resort's restaurant is set up to give customers a special eating experience. Only the freshest ingredients and classic cooking methods are used by the chefs to produce dishes that are genuine and tasty. To go along with the meal, the restaurants provide a variety of drinks, such as wines and cocktails.
The Sarasiruham resort offers a variety of drinks and light fare at its poolside bar in addition to its excellent dining establishments. After a day of city exploration, the bar is the ideal spot to unwind and relax.
In general, Sarasiruham resort's fine dining restaurants are the ideal venue to revel in the delicacies of Rajasthan. These restaurants offer a totally immersive experience of the rich culinary legacy of Rajasthan, from the traditional cuisine to the beautiful atmosphere. Why then wait? Now, reserve your stay at the Sarasiruham resort and enjoy the delicacies of this lovely country.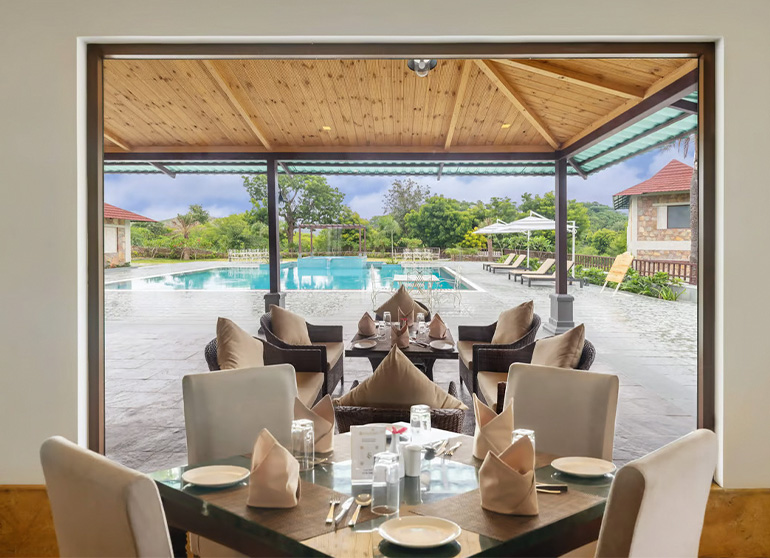 Aminities of Sarasiruham resort in Udaipur
Spa
Pool
Dining
Meeting and events facilities
The Banquet Hall
Gym & Fitness Center
Kid's Play Area
Complimentary parking