18 July 2023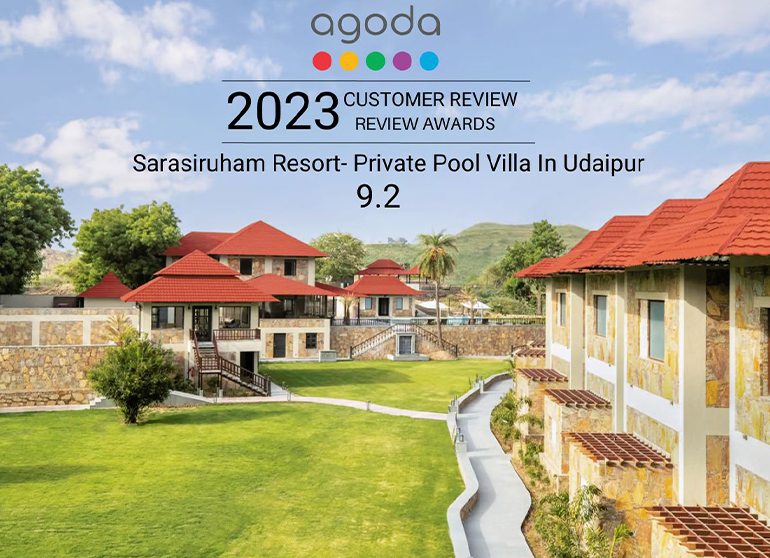 Glittering Success: Sarasiruham Resort Udaipur Eklingji Wins 2023 Customer Review Awards with an Impressive 9.2 Rating!
We are elated to announce a momentous achievement for our beloved Sarasiruham Resort Udaipur Eklingji. Recently, we were bestowed with the esteemed "2023 Customer Review Awards" on agoda.com, an accolade that holds a special place in our hearts. This remarkable recognition was made possible due to the heartfelt feedback and reviews from our esteemed guests, and we couldn't be more grateful for your unwavering support.
With a dazzling rating of 9.2, our resort has truly captured the essence of hospitality and excellence. Your kind words and positive experiences have motivated us to continually raise the bar and create exceptional guest experiences. We take immense pride in providing a serene oasis amidst the majestic beauty of Udaipur's Eklingji, where our guests can unwind and indulge in an array of enriching activities.
At Sarasiruham Resort, we are dedicated to crafting memories that last forever. From our warm and attentive staff to our thoughtfully curated amenities, every aspect is designed to offer an enchanting stay. Whether you seek tranquil moments by the poolside, delectable culinary delights, or exploring the rich heritage of Udaipur, our resort promises an unforgettable journey.
As we stand tall with this prestigious award, we extend our heartfelt gratitude to each of you, our cherished guests. Your glowing reviews and continuous support inspire us to surpass expectations and create an even more splendid experience for your future visits.
Come, immerse yourself in the world of Sarasiruham Resort Udaipur Eklingji, where every stay is an enchanting chapter in the tapestry of cherished memories. Thank you for making our success shine bright!